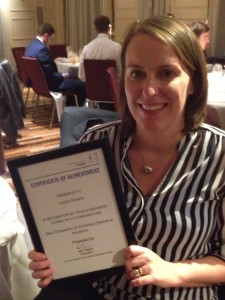 MOFS is very proud to announce that Louisa Roberts has just been awarded the Insurance Institute of Liverpool's Kenneth Griffiths Prize for the Best Completion of the Advanced Diploma in Insurance in the 2013 examinations.
Following completion of the Advanced Diploma, Louisa is now able to use the designation ACII and holds the title of Chartered Insurance Broker.
Louisa said "I was obviously pleased to complete my Advanced Diploma last year, but to subsequently receive recognition from the Institute was a pleasant and unexpected surprise".
As a company, Mason Owen Financial Services Ltd was proud to be one of the first general insurance brokers in the UK to be awarded the prestigious title of Chartered Insurance Broker by the Chartered Insurance Institute. As well as the firm holding Chartered Status, we invest heavily in the training and development of our staff to ensure that they personally attain professional qualifications. Managing Director Andrew Gibbons said "this is an excellent achievement by Louisa, and we are pleased to have another Chartered Insurance Broker in the firm. The work involved in earning this title is extremely demanding, and Louisa can quite rightly be proud of her achievement".
Well done Louisa from all at Mason Owen!