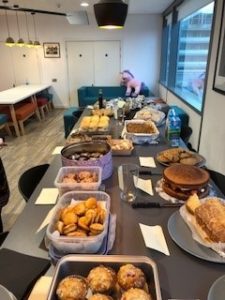 It has been three long years, but the charity bake off returned to MOFS last week. This charity fundraising event had been a staple in the MOFS team's fund raising efforts in years gone by, but there has not been such an event since 2019 prior to the Covid-19 Pandemic. Carla Smith was keen to defend her title, and in the days leading up to the competition, some suggested that the expectation being the favourite to retain her title would get to her!
There was still some trepidation from the organisers as to how many would enter the fray in what is usually a high pressure situation with nowhere to hide. As it turned out, the judges were inundated with entries, all of extremely high quality, as can be seen in the accompanying image. The judges gorged themselves and were stuffed by the end of the competition, and I am pleased to be able to report the winners as follows:-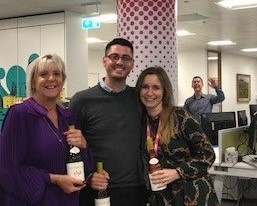 Best Decorated – Richard Hughes (Accounts Department) for his scones.
Tastiest Savoury – Helen Shelley (LI Team) for her pork and apple sausage rolls.
Tastiest dessert – Carla Smith (Management Team) for her apple and cinnamon crumble.
So Carla, in spite of the pressure, managed to retain her title and many congratulations also to Helen and Richard. Richard is relatively new to MOFS and so is new to this sort of challenge and as a rookie baker did extremely well!
Despite all of the fun, frivolity and quality baking, the most important thing was that for the first time in a long time, we were able to raise some much needed funds for our chosen charities – Merseyside Youth Association and Wirral Hospice St John's and as in previous years, MOFS will match any funds raised by colleagues during the course of the current financial year.