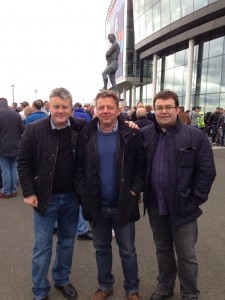 On Saturday 11th May, four gentlemen (I use the term loosely!) set off from the North of England in anticipation of what at least three of us thought would be a procession, at the end of which, Manchester City would collect the FA Cup at Wembley Stadium. The one person who did not subscribe to that view was the one Manchester City fan, Paul Mundy of AXA Insurance, who, having witnessed Manchester City v Wigan at the Etihad Stadium a couple of weeks earlier, took the view that Wigan had a chance.
The rest of the group was made up of Spencer Kenyon (Assura Group Plc, a Manchester United fan), Paul Rose (Building and Land Guarantees, a Sheffield United fan) and myself, a Bolton Wanderers fan.
All of the party apart from Mr Mundy had Wembley dreams shattered in recent weeks and we clearly knew better and were more objective about the game and clearly thought Mr Mundy's scepticism was misplaced. (What did we know?!)
As a Manchester United fan, Spencer naturally pinned his colours to Wigan's mast and declared himself an honorary "pie eater" for the day. He fortified that view by placing a small wager with Betfred on Wigan to win at odds of 9/1. It was clear from quite early in the game that this may have been a more astute investment than it had first appeared when the bet was placed over lunch.
As the game progressed, the 65% of the ground occupied by City fans became quieter and the far smaller number of Wigan fans in the ground became louder as optimism grew. It culminated in a crescendo of noise as Ben Watson scored the winning goal in the 91st minute and was then mobbed in front of our position by his jubilant team mates. It was clear that as soon as the ball hit back of the net, the result was almost assured and it meant that Wigan, who are the first team to reach every English domestic cup competition in both non league and professional football, would also have their first major piece of silver ware.
Post match, we were left to reflect on a good game of football, some good food, some great company and the fact that we had witnessed the true romance of the FA Cup.