A New Company… The Same Personal Approach, because sometimes things need to be done a little differently
When determining how best to do business to ensure that clients receive the service that they expect, an alternative approach is sometimes required.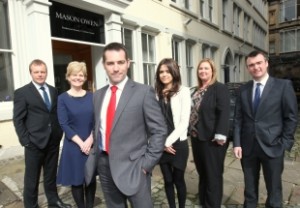 It is for this reason that we sought to create Mason Owen (Specialist Risks) Ltd, in order to focus more specifically for developing certain product lines and markets in terms of clients and insurers to enable us to stay at the forefront of insurance broking, when compared to our peers.
Utilising the same investment in the professionalism of our staff and retaining our independence from any of the insurers with whom we deal are the principals that we will continue to adopt to ensure that the best interest of our clients is preserved. Mason Owen (Specialist Risks) Ltd was incorporated on the 19th December 2013 and is a subsidiary of Mason Owen Financial Services Ltd, our Chartered Insurance Broker parent company. Overall, the company is part of the Mason Owen group of companies, which has offices in Liverpool, London and Edinburgh and has been trading as a property consultancy since 1967.
Whilst the property consultancy is a nationally renowned name in the property industry, our insurance broking activities have now extended from our main administrative office in Liverpool to include a new office in London.
This will give our clients, and other brokers in relation to wholesale business, access to London markets and widens the scope of what we can offer.
Also, in late 2013, we acquired some assets from Probate & Wills Insurance Ltd. This company was a specialist provider of insurance in the probate sector and along with other niche areas of development in the legal indemnity arena, we are looking to expand our business into other niche products and markets through Mason Owen (Specialist Risks) Ltd.