Well the day could not have started in greater contrast to Day 3 as the rain was literally bucketing down as I drew back the curtains and the images of the quayside could not have been further away from previous days. Previously, where property moguls sipped champagne on the open decks and the quayside, this had now been replaced by lots of water and umbrellas, though none of them this time were in the drinks!
The whole dynamic of the day had changed from what I have previously experienced in that the exhibition halls were thronging with people seeking seated areas in which to hold the meetings that had previously taken place on the terraces and outside the cafes and bars in the town, as these places had almost become no go areas if there was no inside seating.
In spite of the weather becoming a hurdle, the MOFS team experienced another busy day starting early with a meeting with Keepmoat Regeneration and in particular, with the Regional Managing Director Martin Smithurst. Other more impromptu meetings followed, but the lunch meeting with David Stewart of Morton Fraser was extremely welcome as it both enabled us to keep dry and catch up with someone who has been a long-time supporter of our Firm.
Other meetings continued throughout the day, culminating in drinks in the evening with Nigel Emmerson and the team from Womble Bond Dickinson, who again have been tremendous supporters of what we have tried to deliver on legal indemnity insurance in past years.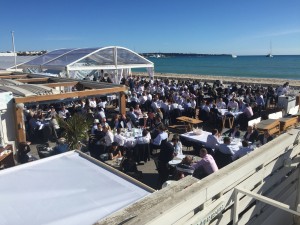 It was interesting however that as the rain drove us inside, it was a different type of decadence that we witnessed to the thousands of lunches that had been served on previous days in the beach marquees. It gave us the opportunity to look at some of the exhibits from around the world including the new cruise terminal at St Petersburg and developments that continue to take place in Dubai.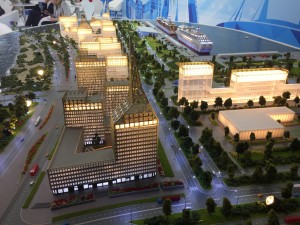 I had not appreciated previously the fact that the models that are pictured took a considerable amount of time to make, as much of the building work would have had to have been laser cut, and the lights that you see within the models are individual, tiny LED lights. The intricacy of the models was stunning including the realistic depiction of the Atlantis Palm in Dubai, which sits at the head of Palm Island.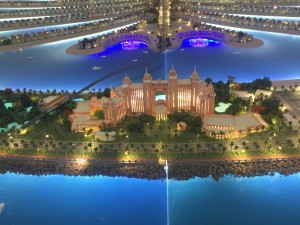 So on reflection whilst the whole week is an expensive conference to attend and is extremely tiring, it certainly allows a Firm like ours to have some really constructive and meaningful conversations with existing and potential clients in a concentrated environment that will hopefully result in us continuing to develop our business.
Perhaps more to follow in 2019…!?