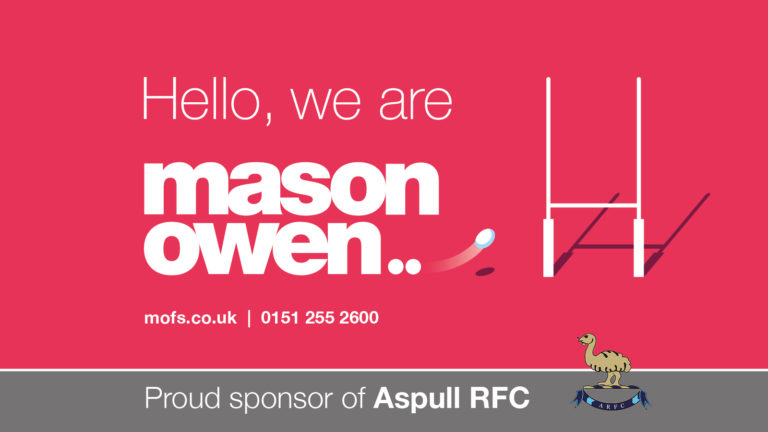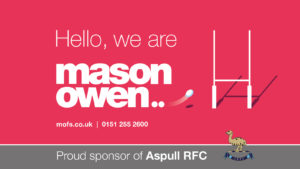 MOFS are pleased to be able to announce our partnership with Aspull RFC, otherwise known as the Emu's.
The initial arrangement will be for a 12-month period commencing in September 2022 and will predominantly go towards providing assistance towards new kit and other ancillary equipment that is essential for the operation and administration of Aspull's newly formed ladies Rugby Union team.
Whilst Aspull RFC are a long-established club, this is the inaugural season of the ladies team and is ground breaking in the town of Wigan, as this is the first ladies rugby union team in the town.
Andrew Gibbons, Managing Director of Mason Owen Financial Services Ltd commented "When we were approached by Aspull to consider sponsorship for the forthcoming season, we were first of all sorry to hear that they had been let down by a sponsor that they thought they had sorted. Whilst we were approached last minute but having heard the story of what is effectively a pioneering project in Wigan we were only too keen to participate. We were particularly drawn to the well-being programme that is in place to support the ladies in the team and the wider club as we felt this aligned extremely well with our own ethos here at Mason Owen. We hope to develop our own relationship with the club over the coming 12 months, which we hope may be able to facilitate additional revenue streams for the club."
Stephen Bailey, Chairman of Aspull RFC said "Aspull RFC would like to welcome Mason Owen Financial Services ltd (MOFS) as sponsors. Their help and support will enable us to develop our Ladies team, along with the wellbeing initiative. These projects are a key part of the Aspull future development plan. We look forward to working with Andrew and the Mason Owen team to continue to grow the ladies section and to roll out the fantastic "In It Together initiative", to benefit both Aspull RFC and the local community.
Thank you to Andrew and the MOFS Team for their support and we look forward to a long relationship between Mason Owen Financial services ltd and Aspull RFC"