Day 4 – Thursday 16th March 2017  
Our colleagues from Mason Owen & Partners returned to Liverpool early this morning, presumably jaded, but with many opportunities to follow up. The MOFS delegation powered into day 4 with a breakfast meeting with one of our longest supporting Title Insurers, First Title.  An enjoyable breakfast and good company were an excellent way to start the day with some good things for each of us to take away to work on.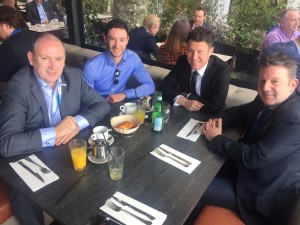 We then visited Dubai, or at least their exhibit, where they were demonstrating the latest development, Jumeirah Central, which included some radical design features, oft missing from Dubai streets…Pavements! The presenters made a big thing of this advancement in design, which I must say surprised me, given that walking, whilst enjoyable, is slightly challenging in 50 degree temperatures!
So to the close and after a long day extolling the virtues of MOFS, we finished the day conference where we started, with Andrew Clarke of DLA Piper on the DLA yacht watching the sun go down on MIPIM 2017. We were joined by Sam Wallis of GIA North LLP, who was part of the Manchester delegation. Sam and his team partner MOFS in our provision of Rights of Light insurance to our mutual clients.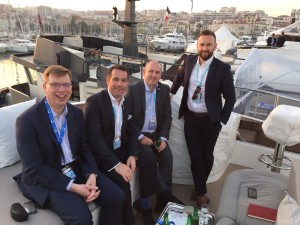 A little light refreshment later, we decided we should pay at least one more visit to the Manchester stand, which gave me ample opportunity to get a real Manchester selfie. In my defence, I was wearing my Liverpool lanyard and Bolton badge, but could not resist! When in Cannes…!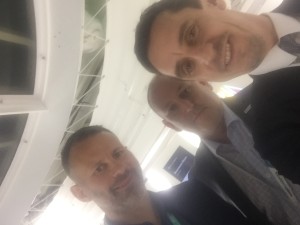 So to this morning. Another beautiful day in the South of France but a more leisurely breakfast and no meetings scheduled, except with our BA pilot! So with Cannes in the distance, a very successful week for MOFS, MIPIM 2017 C'est Finis! But the follow up to all our new contacts begins first thing on Monday morning!