Day 2 – Tuesday 14th March 2017
A global property conference maybe, but what I have learned today is that Bolton is quite clearly at the centre of it!!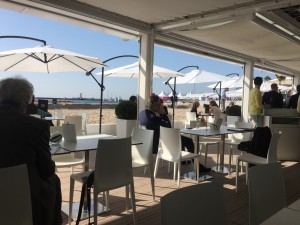 The day started early with our first foray into the main pavilion and what is a huge trade show. The Liverpool stand designed by K2 was impressive and the opening of the stand was well attended. As I am unable to attend the judging meeting at the end of the week for the Incisive Media Claims Awards, I had to phone in my commentary on my decisions that were already with Incisive Media. I chose the Manchester Pavilion to make the call and I suspect from the image it is understandable why!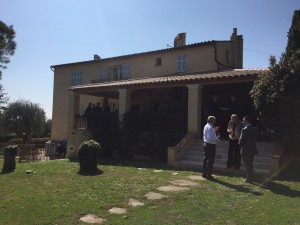 After a morning of networking with clients and contacts including Signature Living, who are one of Liverpool's main partners at the event, K2, Curtins and others, we headed for the Hill Dickinson transport which took us to their lunch gathering at a villa owned by Hugh Frost. Alex and I were guests of Kevin Lee of Hill Dickinson and it must be said that the hospitality and surroundings were stunning. We met Greg Malouf, who is an Australian Investor for whom MOFS have been doing some Legal Indemnity work so the lunch turned out to be extremely valuable as well as enjoyable.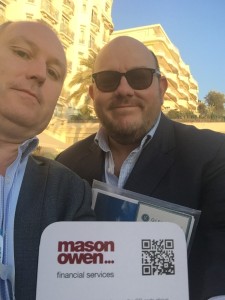 Only 2 more formal gatherings left then, which included drinks at the Martinez Hotel on the front at Cannes at an event hosted by our client, Apache Capital. Taking the opportunity to advertise MOFS and to try to convince a good friend of both the Mason Owen property and Insurance practices, Guy Butler of Glenbrook Property, was happy to pose in a selfie. The image was duly sent to his current broker (also a good friend) and the response was sufficiently curt! We also had the pleasure of catching up with a longstanding client of Alex, Julie Carr, now of Brady Solicitors and the MD of Brady, Clare Brady. Colleagues from Mason Owen & Partners were also in attendance at this particular function, having ploughed a separate furrow through the events maze earlier that day. Later, they attended the official Liverpool Dinner, whilst the MOFS contingent sought further meetings in the evening, but after a day where Alex's fitbit showed almost 18,000 steps and just over 7 miles, we were starting to flag a little!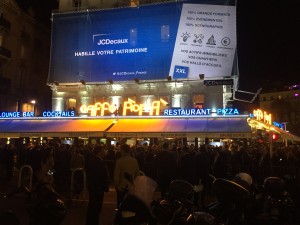 You will see that my reference to Café Roma being the bar of choice for the masses is not wrong, hence the reason why we aimed for somewhere a little more quiet for our meeting with Paul Kenny of Travers Smith, one of the successful MOFS golfing foursome who took the Mason Owen golf classic title at our first attempt in October. We were soon joined for dinner by a delegation from Shoosmiths in Manchester consisting of Andrew Pattinson, Dan Hargreaves and Keith Davies. Up until this point, Alex already knew Dan, who in turn is a good friend of Paul. I am sat next to Keith, but ask Dan why he is wearing a Bolton badge. The answer is that Shoosmiths sponsor Bolton Council at MIPIM. At the same time, Alex is talking to Keith and explaining to him who MOFS are and some of our personnel, when Keith turns to me only for us both to realise that we are both from Bolton, live about half a mile from each other and our daughters have been in the same class at school for the last 5 years! Dan is sufficiently blown away and points out that in most meetings he has had that day, everyone has had a connection with Bolton! I am presented with my very own Bolton badge by Keith and just at that point, a text from my son…Bolton Wanderers are 4-0 up at Gillingham! So you see, Bolton is at the centre of MIPIM 2017!