Posted by Andrew Gibbons
MIPIM 2017 – A MOFS OBSERVATION
Day 4 – Thursday 16th March 2017  
Our colleagues from Mason Owen & Partners returned to Liverpool early this morning, presumably jaded, but with many opportunities to follow up. The MOFS delegation powered into day 4 with a breakfast meeting with one of our longest supporting Title Insurers, First Title.  An enjoyable breakfast and good company were an excellent way to start the day with some good things for each of us to take away to work on.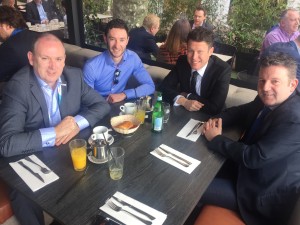 We then visited Dubai, or at least their exhibit, where they were demonstrating the latest development, Jumeirah Central, which included some radical design features, oft missing from Dubai streets…Pavements! The presenters made a big thing of this advancement in design, which I must say surprised me, given that walking, whilst enjoyable, is slightly challenging in 50 degree temperatures!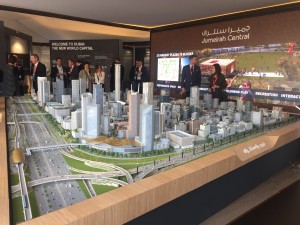 So to the close and after a long day extolling the virtues of MOFS, we finished the day conference where we started, with Andrew Clarke of DLA Piper on the DLA yacht watching the sun go down on MIPIM 2017. We were joined by Sam Wallis of GIA North LLP, who was part of the Manchester delegation. Sam and his team partner MOFS in our provision of Rights of Light insurance to our mutual clients.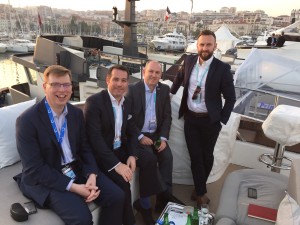 A little light refreshment later, we decided we should pay at least one more visit to the Manchester stand, which gave me ample opportunity to get a real Manchester selfie. In my defence, I was wearing my Liverpool lanyard and Bolton badge, but could not resist! When in Cannes…!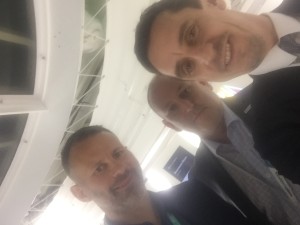 So to this morning. Another beautiful day in the South of France but a more leisurely breakfast and no meetings scheduled, except with our BA pilot! So with Cannes in the distance, a very successful week for MOFS, MIPIM 2017 C'est Finis! But the follow up to all our new contacts begins first thing on Monday morning!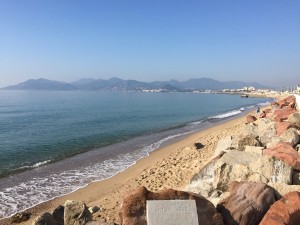 Day 3 – Wednesday 15th March 2017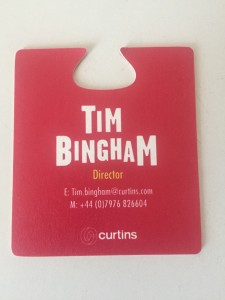 You normally start and finish your day by opening and closing the curtains. We opened and closed the daytime session of MIPIM today by opening and closing with Curtins. (Pathetic Northern gag, but the pace is starting to tell!)
Tim Bingham of Curtins gave an early morning presentation on the complexity of how to build without too much fuss over a plethora of tunnels in a place like Liverpool. The subject matter was extremely interesting and I certainly learned a thing or two that I didn't know before but I am sure that Tim made light of what is an extremely complex subject. After all, massive respect to anyone who has his own beer mat!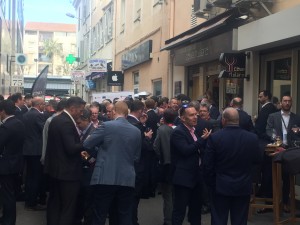 The beer mat was from the "closing Curtins", which was a wine tasting at a small bar in the main town. Needless to say, the Curtins hospitality was as comprehensive as Tim's presentation!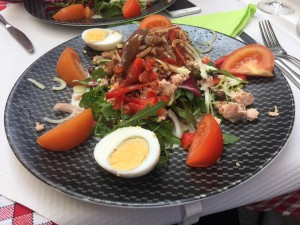 You find when you are at these events that you are in a time bubble. Normal meal times seem to pass and you forget you have not eaten, so yesterday, in the middle of the Curtins, Alex and I sampled the local Nice delicacy, and healthy option, of a salad Nicoise. C'est tres bien!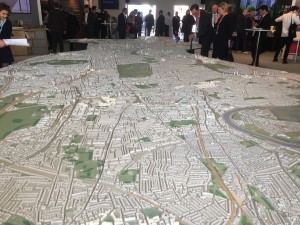 We visited London after lunch and the huge model of Greater London in the centre of their exhibition was incredible.
After lunch we had an excellent meeting with Russell Monro of Pinsent Mason in the lovely afternoon sunshine. However, as Alex is from North of the border and I am not great in the sun, we had to keep moving chairs so that neither of us looked like someone who had seen a UFO in Close Encounters of the Third Kind! (The older readers amongst you will understand!)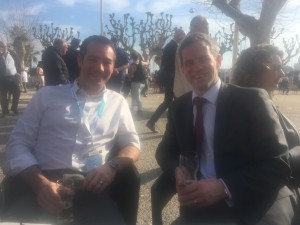 The real benefit of an event such as this is the sheer volume and range of people you meet in a very short space of time. The cost and time in arranging such meetings in the normal working environment is nigh on impossible and could prove to be very expensive and inefficient. However, we may need an extra suitcase each for the number of business cards collected!
So how do you finish a day at MIPIM? On the DLA Piper yacht of course! How else?
Day 2 – Tuesday 14th March 2017
A global property conference maybe, but what I have learned today is that Bolton is quite clearly at the centre of it!!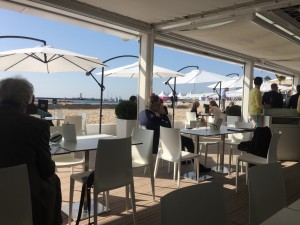 The day started early with our first foray into the main pavilion and what is a huge trade show. The Liverpool stand designed by K2 was impressive and the opening of the stand was well attended. As I am unable to attend the judging meeting at the end of the week for the Incisive Media Claims Awards, I had to phone in my commentary on my decisions that were already with Incisive Media. I chose the Manchester Pavilion to make the call and I suspect from the image it is understandable why!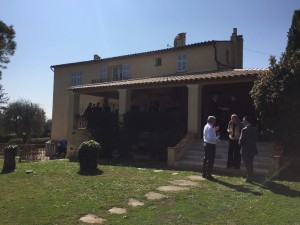 After a morning of networking with clients and contacts including Signature Living, who are one of Liverpool's main partners at the event, K2, Curtins and others, we headed for the Hill Dickinson transport which took us to their lunch gathering at a villa owned by Hugh Frost. Alex and I were guests of Kevin Lee of Hill Dickinson and it must be said that the hospitality and surroundings were stunning. We met Greg Malouf, who is an Australian Investor for whom MOFS have been doing some Legal Indemnity work so the lunch turned out to be extremely valuable as well as enjoyable.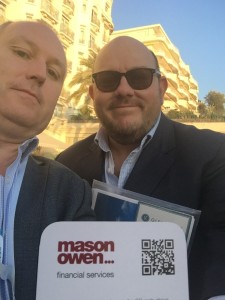 Only 2 more formal gatherings left then, which included drinks at the Martinez Hotel on the front at Cannes at an event hosted by our client, Apache Capital. Taking the opportunity to advertise MOFS and to try to convince a good friend of both the Mason Owen property and Insurance practices, Guy Butler of Glenbrook Property, was happy to pose in a selfie. The image was duly sent to his current broker (also a good friend) and the response was sufficiently curt! We also had the pleasure of catching up with a longstanding client of Alex, Julie Carr, now of Brady Solicitors and the MD of Brady, Clare Brady. Colleagues from Mason Owen & Partners were also in attendance at this particular function, having ploughed a separate furrow through the events maze earlier that day. Later, they attended the official Liverpool Dinner, whilst the MOFS contingent sought further meetings in the evening, but after a day where Alex's fitbit showed almost 18,000 steps and just over 7 miles, we were starting to flag a little!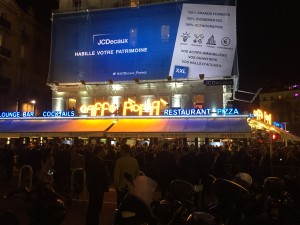 You will see that my reference to Café Roma being the bar of choice for the masses is not wrong, hence the reason why we aimed for somewhere a little more quiet for our meeting with Paul Kenny of Travers Smith, one of the successful MOFS golfing foursome who took the Mason Owen golf classic title at our first attempt in October. We were soon joined for dinner by a delegation from Shoosmiths in Manchester consisting of Andrew Pattinson, Dan Hargreaves and Keith Davies. Up until this point, Alex already knew Dan, who in turn is a good friend of Paul. I am sat next to Keith, but ask Dan why he is wearing a Bolton badge. The answer is that Shoosmiths sponsor Bolton Council at MIPIM. At the same time, Alex is talking to Keith and explaining to him who MOFS are and some of our personnel, when Keith turns to me only for us both to realise that we are both from Bolton, live about half a mile from each other and our daughters have been in the same class at school for the last 5 years! Dan is sufficiently blown away and points out that in most meetings he has had that day, everyone has had a connection with Bolton! I am presented with my very own Bolton badge by Keith and just at that point, a text from my son…Bolton Wanderers are 4-0 up at Gillingham! So you see, Bolton is at the centre of MIPIM 2017!
Day 1 – Monday 13th March 2017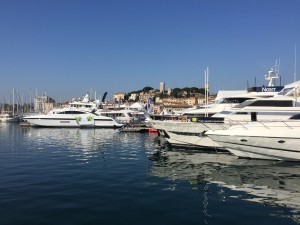 After 9 months of preparation, day 1 arrived, though it really was not day 1 as the conference actually commences on the 14th March. The MOFS delegation of myself and our Head of Legal Indemnity and brains behind the trip, Alex Bielinski, met early, 5.30am, at Manchester Airport in anticipation of what we hope will be a good week in Cannes.
BBC Radio 5 Live added to the anticipation on my drive to the airport as they covered the MIPIM conference, though the lady who was interviewed as one of the leaders of the "Northern Powerhouse" was less than convincing as to why this public organisation was attending the conference.
However, airport reached without incident and the transfer flights via Heathrow to Nice also ran like clockwork. It is in baggage reclaim that I suddenly feel concerned, remembering back to the last time I travelled with Alex to an event as arriving at Islay Airport my worst nightmare happened…no bag! The good news this time was that my bag was one of the first off the carousel and Alex's soon followed. It had been interesting from Heathrow to baggage reclaim as pretty much the whole flight to Nice was populated by the great and the good of the property industry, many of whom commenced their networking on the way to Cannes!
Second hurdle overcome…we did have a hotel room having been gazumped on our first choice. The brochure should probably describe it as functional rather than palatial, but it is certainly within budget and will suffice for the week we are here. Breakfast this morning was typically French and delicious!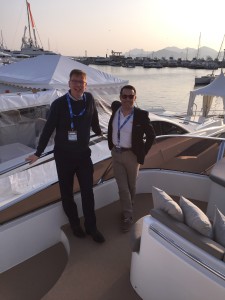 Yesterday evening we ventured into Cannes to check out the lie of the land for the conference. We were aided by the offer of a taxi from one of our good clients, Andrew Clarke of DLA Piper. The taxi was sufficiently understated (Monster Truck!) and we arrived in Cannes in style. DLA have chartered a yacht for the week and Andrew, like me, being a "conference virgin" was keen to check out the boat. It was still being prepared, but undeterred, Andrew took Alex and I on board to look around and I must say it was extremely plush!
After some light refreshment, we headed to meet colleagues from Mason Owen & Partners (Simon Bland and Jamie Moffatt) at what I believe is the "go to" place for the conference, Café Roma. This is the "go to" place in my opinion as it is the closest bar to the exit door of the conference venue and property people are not necessarily known for their walking when refreshment is involved!
Having met a few more long standing clients of Mason Owen, we headed for a very understated dinner for the first night and an early night for all in light of the early start required when the real work commences this morning.